Vinegar usage in Hotel Industry
Blog

Vinegar usage in Hotel Industry
Vinegar usage in Hotel Industry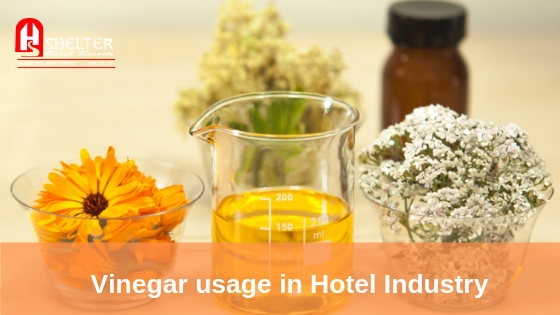 Vinegar is the most pop "word" that we hear several times in the modern recipe preparations. In this blog, we're going to review the different types of vinegar and its uses in the Hotel Industry. Let's see how its produced, the general types available, primary essence form characteristics, and culinary applications.
Nowadays, everybody has fermentation on the mind, and for good reason. The fermentation of several food products gives a new life, flavour profile and health benefits to things with apparently favourable sources. Vinegar is one of those kinds, even though it's not in a similar fermented chain such as kimchi, kombucha, and bread.
Vinegar is produced from ethanol fermentation and it's an acidic liquid, by nature. This additionally indicates that any liquid containing ethanol wine, beer, cider, and grain alcohol is good enough for making vinegar. Bacterial cultures are applied to break down the ethanol into byproducts, which comprise acetic acid and other vitamins, minerals and flavours.
In Cooking applications, it's primarily used to balance other flavours with its sour and tart notes. Various kinds of vinegar with distinct origins can give special characteristics as the sweetness of balsamic or sherry vinegar.
Cooking with Vinegar
Cooking with vinegar comes very handy. It's normally used to balance out fats, like in salad dressings or with cheese, providing brightness and eliminating the heaviness. Its low pH level is used in leavening processes too since it can stimulate baking soda. In marinades, vinegar further assists break down meat fibers, tenderizing in addition to seasoning it.
Nutritional Benefits
Vinegar has been associated with regulating blood sugar heads, developing "good" HDL cholesterol levels and helping in weight loss. Vinegar, being naturally gluten and soy-free, is suitable for special diets such as Whole 30, Paleo or soy allergies as it can advance acid and astringency to recipes without any health risks. Only malt vinegar and white distilled vinegar aren't recognized as good for gluten-free diets.
Vinegar as "Cleaning Agent"
Additional to the cooking applications, Vinegar is also used as a Cleaning Agent. Other than water, regular detergents, and cleaning chemicals, the housekeeping staff in the hotels also uses Vinegar, for removing stains on the floor and bath.
Feel Fresh with the Magic of Vinegar. Explore astounding freshness only at Shelter Beach Resorts. The room starts from Rs. 3500* Book now @ 098403 33114.