Shelter welcomes Samudra by Chef Ram Prakash to ECR. Chef's market-inspired menu is a breath of fresh air, meeting the health-conscious demands of today's travelers and diners while simultaneously delivering fresh, creative dishes that are full of flavor.
Amenities
Seating Capacity : 52
Authentic Vegetarian Food
Traditional South Indian
FoodSpicy Chinese food
Mouth watering Tandoori Kababs
Chef's creativity and deep interest doesn't end as being part of the world record team who managed to make delicious dishes in straight 50 hours. He invests his time for research, innovation and educating the young chefs.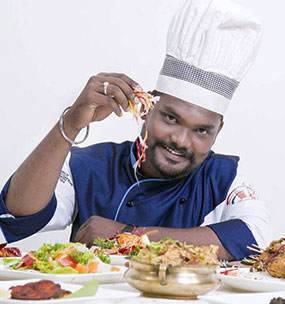 RAM PRAKASH
Senior Executive Chef
In a custom-designed menu, Samudra will treat guests to menu selections that include: Vethala Poondu Satham, Mutton chukka, aranmanai kozhi.
Bring in your friends and family to try our new dishes added to our menu. We will make sure you are fully satisfied.
View Menu
Media