This is Where it All Begins

They finally put a ring on it. So, what's next? The engagement party of course! If you're a couple that puts sustainability and being eco-conscious.
PACKAGE

DETAILS

Rooms

Lawns

Halls

Swimming Pool

Kids Area

Restaurant
Rooms
Lawns
Thendral Lawn
Perfect lawn space for team outings with a big stage
Max. Occupancy : 300 persons
Stage : 350 Sq.ft
Location : Besides the reception area
Coconut Grove
This is our newest addition for hosting outdoor parties and weddings.
Max. Occupancy : 700 persons
Stage : 100 Sq.ft
Location : Near the SPA area
Mango Grove
Luscious green space for smaller teams.
Max. Occupancy : 50 persons
Location : Behind the swimming pool
Halls
Conferences
Conference Halls
We comprehend and appraise the power of people getting united, to make special memories, plans and strategize, build teams, or just celebrate an occasion.
Planning a conference, wedding or other special occasions?
You can organize your next event at Shelter Beach Resorts, which extends 3 versatile conference halls. Grand banquet hall, Prem with a maximum capacity of 200 pax theatre style is perfect for huge gatherings, conferences, themed events, corporate functions, celebrations, and parties. The hall is well equipped with state-of-the-art audio-visual technology, high-speed wireless Internet access, and presentation facilities. Our dedicated host of professionals for whom your service is a top priority can assist you with everything.
In an ambience that opens the mind and elevates the spirit, Shelter Beach Resorts offers extensive personal and business services at its Conference Halls
Kalyan – II
Ideal for Company conferences and family get-togethers.
Max.Occupancy: 80 persons
Area : 1250 sq.ft
Location: Above restaurant (First Floor)
Amenities
Cordless mic
Podium
LCD Projector
Music System
Stage
Prem Hall
Luxurious ambience for hosting birthday parties and get-togethers.
Max.Occupancy: 200 persons
Area : 1700 sq.ft
Location: West of Restaurant
Swimming Pool
Swimming Pool
Few ideas go more refreshing with a swim in the infinity swimming pool at Shelter Beach Resorts. Located in the center, the pool is exclusively for our resident guests.
This tranquil pool sanctuary is a shelter for relaxation without any disturbance from other guests, and a highlight of our Shelter Beach resort.
A swim in the pool will get you revived and ready for extended high energy board plays and Outdoor games!
Kids Area
Kids Play Area
While a playground is usually designed for children. A type of playground called a playscape is designed to provide a safe environment for play in a natural setting.
Restaurant
Shelter welcomes Samudra by Chef Ram Prakash to ECR. Chef's market-inspired menu is a breath of fresh air, meeting the health-conscious demands of today's travelers and diners while simultaneously delivering fresh, creative dishes that are full of flavor.
Amenities
Seating Capacity : 52
Authentic Vegetarian Food
Traditional South Indian
FoodSpicy Chinese food
Mouth watering Tandoori Kababs
Chef's creativity and deep interest doesn't end as being part of the world record team who managed to make delicious dishes in straight 50 hours. He invests his time for research, innovation and educating the young chefs.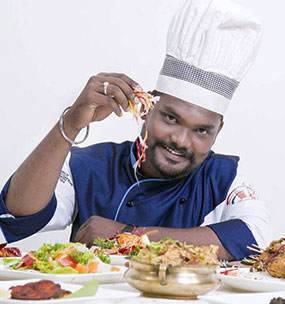 RAM PRAKASH
Senior Executive Chef
In a custom-designed menu, Samudra will treat guests to menu selections that include: Vethala Poondu Satham, Mutton chukka, aranmanai kozhi.
Bring in your friends and family to try our new dishes added to our menu. We will make sure you are fully satisfied.
View Menu